John and I went to Seoul and Bangkok from September 30th through October 10th.
He's been to Korea before but this was my first time. It's been on my list of places to go ever since I fell in love with Korean food.
We landed in Seoul, checked into our hotel, and immediately headed out to find something to eat for dinner.
Our Korean is very limited but we were able to order Bulgogi and Beer.
The Bulgogi that came to our table wasn't the grilled version we were expecting, but it was delicious:
It was marinated beef and glass noodles in a soy sauce broth with enoki mushrooms and green onions.
We slept like dead people and then went exploring.
We headed to the Deoksugung Palace and arrived just in time for the ancient changing of the guard ceremony:
We usually have a general idea of where we are going but for the most part, we just walk until we find something else to explore.
Some of the most interesting things are found off the main path.
On one of the streets, a guard blew his whistle at me in a way that told me I was doing something wrong.
It turns out that you aren't allowed to take pictures on the road where the president lives.
I didn't even know we were on the road to the President's House.
They have special area in front of the gate where everyone gathers to take pictures:
For lunch, we walked down a narrow road with a bunch of local restaurants and decided on one that served Samgyeopsal, also known as Pork Belly:
It came with several different types of kimchi, sauces, and this spicy soft-shelled crab that I'm still craving:
Once the Samgyeopsal was grilled to perfection:
We cut it into bite size pieces with scissors and then put it into lettuce leaves with different sauces and kimchis:
Delish!
Later that night we met up with Jenny from Seoul Eats for a Night Dining Tour.
Jenny taught us all about the Korean eating and drinking culture while tasting along the way: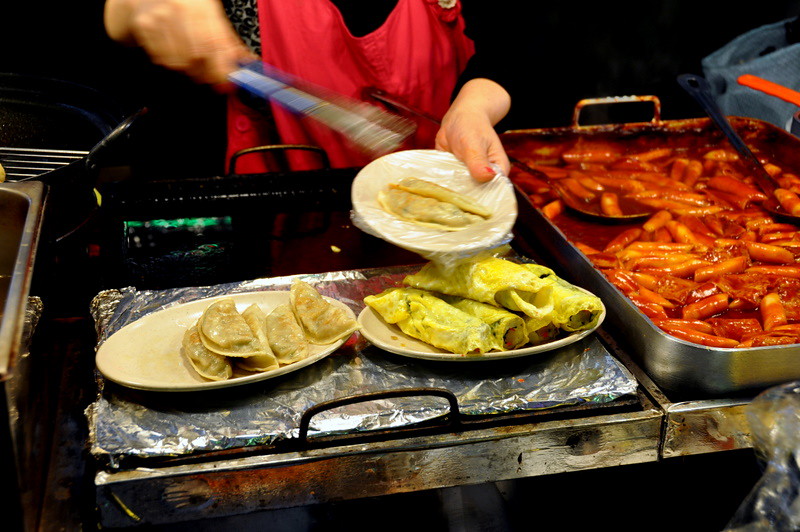 For our main meal of the night we went to a pork barbecue restaurant that I don't think we could have ever found on our own:
We had Garmaeggisal, which is a special cut of pork located near the pig's diaphragm:
While the Garmaeggisal grilled, we drank Soju (Korean Vodka) and talked about the Korean culture.
Garmaeggisal is eaten similar to Bulgolgi, Samgyeopsal, and Kalbi – cut up into bite size pieces and then arranged inside a lettuce leaf with your choice of toppings.
Our next stop was the Kwangjang Market, one of the nation's largest traditional markets.
The tour ended with more rice wine and a taste of several different types of Korean pancakes, Pajeon:
The next day we jumped back on the metro and headed to the Changgyeong Palace:
We walked through the Biwon (secret) Garden and then enjoyed a performance with traditional singing and instruments:
While walking around the area we came across a park where a bunch of locals were hanging out.
There were probably 40 guys in this park playing the strategy game, Baduk:
Even though we couldn't speak each others language we had a great time hanging out there while they played. A smile goes a long way.
I adore experiences like that.
For dinner, we went to the famous Samwon Garden.
We ordered Kalbi, barbecue short ribs, and ate way passed the point of being comfortable.
So worth it.
The next day we jumped on the metro and headed to central Seoul.
Our goal was to find the Noryangjin Seafood Market:
The place is incredible!
I'd love to shop here every day.
After strolling up and down every isle we went in search of lunch.
We decided on Tiger Prawns and took them upstairs to a restaurant to have them grilled:
They were huge! Four Prawns were 2.2 pounds.
That's the head in one hand and the body in my other hand!
I still can't believe that we were the only non-locals in the whole place.
Later that night we went to The Korea House to see a high energy folk performance with dance, songs, and drums:
Our night ended with a visit to Namsan Tower, also known as N Seoul Tower:
Once we got to the top, we took in the stunning 360 degree view of Seoul at night and then enjoyed a brick oven pizza overlooking all of it.
Our last day in Seoul was spent in Insadong, a neighborhood of the Jongno-gu district.
The main street is Insadong-gil and is filled art, antiques, spices, clothing, etc.
We stopped at a trendy tea house for a drink but of course we ordered a "small snack" even though we weren't hungry.
I ordered Green Tea Ice Cream and a Green Tea Citrus Soda:
John ordered Green Tea Rice Waffles and Green Tea Ice Cream:
We headed back to our hotel and packed for our flight to Bangkok.
The four days we spent in Seoul were packed full of local culture:
And of course, local cuisine.