In May 2011, our family spent a day in Auckland and then flew to Queenstown for a week of adventure.
We rented a beautiful three bedroom / three bath home for 4 nights with a stunning unobstructed view from every room.
15,000 years ago during the last ice age, a huge glacier moved from the north west and carved out what is now Lake Wakatipu.
We were told that the water in the lake is 99.9999% pure, the purest water in the world.
For dinner we ended up at Bella Cucina, a recommended rustic Italian restaurant in the heart of Queenstown.
Kelly ordered the Pasta alla Carbonara:
And the rest of us ordered wood fired pizza.
Everything was delicious.
The next morning we huddled around the fireplace and watched the sunrise.
Then headed off to our first adventure in Queenstown — Ziplining through the forest on Gondola Hill.
What a morning!
Our next thrill was a jet boat ride on the upper Shotover River with Shotover Jet.
We couldn't take cameras on the ride because they'd get wet, but mostly because we were gripping the "oh crap" bar with both hands.
This video explains it best:
Crazy, intense, and thrilling!
On our way back to the house we passed a sign that said "The Road to Paradise".
It is scenic drive that curves along the side of Lake Wakatipu with several places to hike and camp.
That night we went to another highly recommended dinner spot, Yakitori Daruma Japanese Sake Bar.
Our energetic waiter suggested several different entrees for us to share.
Our experience at Yakitori Daruma surpassed the rave reviews on Trip Advisor.
We wanted to find a local place for live music and were told that Póg Mahones is the place to be on a Tuesday night.
It's a local Irish pub that was designed & built in Ireland, then shipped to NZ.
A great way to end an amazing day.
The next morning we drove to Te Anau.
Two hours of fascinating countryside.
We took a boat ride across Lake Te Anau to visit the Glowworm Caves.
Our guide took us on a small path underground and then on a small boat through limestone caverns.
We weren't allowed to take pictures inside the caves so I borrowed a couple from Real Journeys.
The sun was setting over Lake Te Anau by the time we started our journey back to Queenstown.
That night we went to Flame for ribs, steaks, and lamb chops.
Our last day began with paragliding over Queenstown.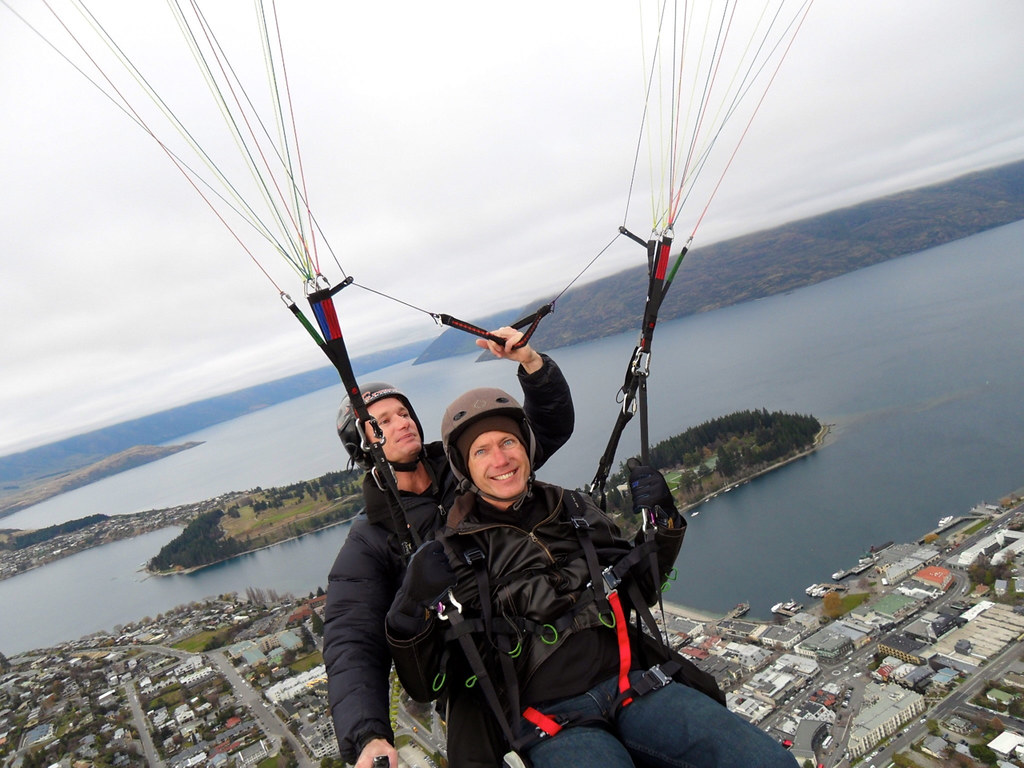 Here is a short video of my experience:
So! Much! Fun!
Kelly bugged us all week to bungy jump. She really wanted to do it and REALLY wanted us to do it with her.
Quite honestly, I have absolutely no desire to do it.
Skydiving, I'll do. Bungy jump, no thanks.
John and I talked about it that morning and decided to surprise her by driving to The Kawarau Bridge Bungy, home to the original Bungy Jump.
My stomach was in knots and my heart was racing. I can only imagine how it felt for her.
She was on an adrenaline high for the rest of the day.
We pre-ordered a picnic lunch from Gibbston Valley Cheesery and Winery.
It was filled with several different cheeses, fresh baked bread, antipasto ingredients, crackers, napkins, bottles of water, wine glasses, and a bottle of wine.
Times like this are what it's all about.
Our last meal in Queenstown was at India Once Upon A Time.
The food was good but we were all so tired that we were dozing off in our naan.
The next morning we packed-up and started our journey towards Lake Tekapo.