Elephant Village – Bangkok
Update:
It sickens me to learn about how these animals were/are treated.
We do not know if this type of abuse was going on back in 2010 when we visited, but had we known, we would not have participated.
I do not support this type of behavior and I strongly encourage all of you who are considering this tour, to reconsider.
_________________________________________________________________________________________________________________________________________________
On our 2nd day in Bangkok we went to the Tiger Temple in the morning and the Elephant Village in the afternoon.
I wrote about our time at the Tiger Temple HERE.
The Elephant Village is in the Kanchanaburi province and situated along the River Kwai Noi.
It is a little camp where Karen and Burmese mahouts live.
The village is very simple and charming and isn't overrun with tourist or souvenir shops.
As a matter of fact, we were the only tourists there.
We were told to bring a change of clothes and a towel but had no idea what to expect other than we were going to get wet.
Our guide said she reserved the best mahout and elephant for the afternoon.
She also warned us that the elephant has a reputation of being a tad naughty.
We thanked her but had no idea what any of it really meant as we rode bareback down to the river.
Needless to say, we quickly found out what naughty meant!
Miss Naughty sucked water up into her trunk and then whipped it back into our faces.
She did this several times and all we could do was laugh.
Next thing you know, she is laughing!
She didn't stop there.
The Burmese man yelled a command and Miss Naughty started rocking back and forth.
It was like trying to stay on a bucking bull.
We'd crawl back up on her and she'd rock us right back off.
As soon as we were on her back, Miss Naughty rocked again.
She threw a little more water back at us…
And then it was our turn to toss water.
Two against one didn't matter.
Miss Naughty won, hands down.
We'd laugh, she'd laugh.
For such a large animal she was extremely gentle.
And definitely playful.
There was so much respect and love between the mahout and his elephant.
It was obvious the two of them had a special bond.
We climbed back up on Miss Naughty to walk back to the camp.
Or so we thought.
She tossed us again…
Then laughed at us!
She is properly named, that's for sure.
Miss Naughty walked us back towards the camp…
And grabbed large clumps of grass and plants on her way.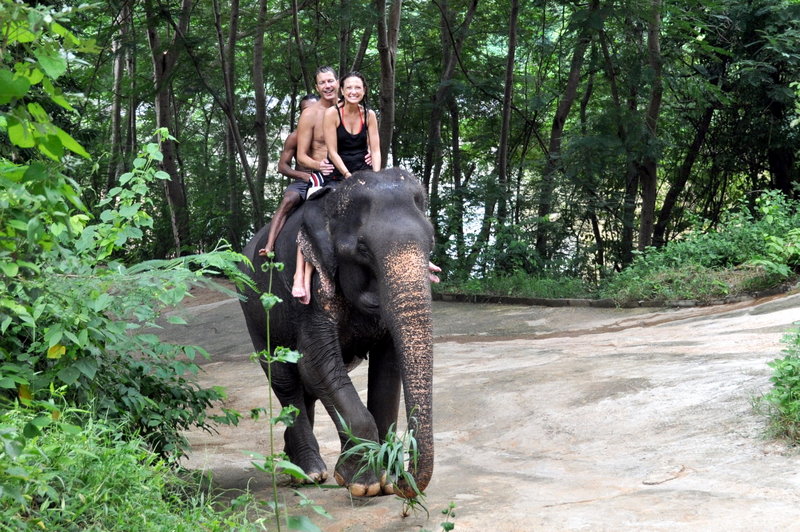 A well-deserved snack.
When she dropped us off at the camp, we tipped her several baht for her time with us.
What an amazing animal.
What an incredible afternoon.
John and I both fell sound asleep in the car on the way back to our hotel.
After all we left the hotel that morning at 5am, served Monks, bottle fed tiger cubs, washed, fed, and played with tigers, and then played got manhandled in the river by a 10,000 pound elephant.
We worked up quite an appetite and went to a family owned restaurant that was highly recommended to us, Queen of Curry.
For an appetizer, we had Spring Rolls with a Thai Chili Sauce and Chicken Satay with a Peanut Sauce:
I ordered Shrimp Pad Thai:
John ordered Shrimp Tom Yum Goong Nam Khon:
Every bite we ate was followed by Mmms and Wows.
It was the perfect ending to an amazing day.
It truly was one of those days you just can't believe you did once it is all over.